Beskrivelse
Overwhelming Power and High Density Presence Achieved by 11.2-channel Separate AV Amps
The MX-A5000 discrete structured 11-channel Power Amplifier delivers powerful driving force that provides superb quality and performance for all channels. Combined with the CX-A5000 11.2-channel Pre-amplifier, it achieves overwhelming silence and sound filled with dynamic feeling, the goal to which Yamaha constantly aspires. With all types of sound sources, you will enjoy a deep resonance that immerses you in music with the full scale presence of 11.2 channels.

Specially Designed High Rigidity Chassis Eliminates the Effects of Vibration for Greater Sound Purity
As part of the no-compromise design policy for these two amplifiers, Yamaha created an advanced chassis with strong rigidity. Chassis stiffness is enhanced by an H-shaped cross frame that boosts mechanical strength, by adopting aluminium side panels that increase the stiffness of the housing, and by a three-ply structure with independent top cover and side panels. Any external vibration from the rack or other sources is damped by heavy insulators. The A.R.T (Anti-Resonance Technology) Wedge in the centre of the bottom cover acts as an additional vibration countermeasure and firmly supports the internal circuits and delicate parts. In addition, the MX-A5000 has a double bottom, consisting of vibration control plates made of 1.6mm black steel, the same type of construction used on the previous flagship model Z11. In order to support the heavy heat sinks and other parts, it has a left-right independent construction strengthened by a rigid-frame structure. The bottom frame reduces the transmission of vibration produced by the large power supply transformer and heat sinks. It also incorporates a heavy insulator that blocks external vibration.

Symmetris oppbygget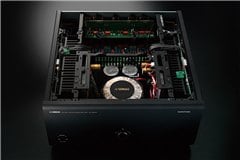 Dette er bare en av mange designdetaljer som alle kombineres for å skape en overlegen receiver. interiøret i receiveren er nøye planlagt. Kretsdragning og konstruksjon er gjort sånn at venstre og høyre kanal er fysisk og elektronisk isolert. Dette maksimerer naturli kanalseparasjon, men forbedrer også signal-brus-forholdene og bidrar også til å oppnå et bredt, åpent lydbilde.
Highest Quality Parts Achieve High Power to 11 Channels and Unrestricted Speaker Drive
The MX-A5000 uses a current feedback power amp with a Three-stage Darlington circuit that has superior phase properties and is resistant to speaker impedance fluctuation. To fully realise its inherent power, it uses high quality parts with superior sound quality that were strictly selected based on listening tests. The power supply transformer is a specially developed high output, high efficiency, large size toroidal transformer. With two specially developed high capacity (27,000uF) block capacitors, it minimises energy loss and features power supply capacity with generous headroom. This ensures sound capable of superior musical expression. The speaker output terminals are high quality gold-plated types, and are compatible with Y plugs for optimum speaker connectivity.

Noise Resistant, Highly Reliable Balanced Connection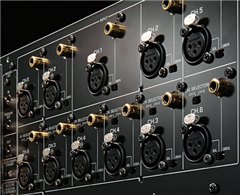 Electrical noise may be generated due to connection with other AV components and even to the connection between them, as well as from other sources of external noise. To ensure that the MX-A5000 and CX-A5000 are not affected by this distortion, they use balanced connections that are highly noise resistant—the same type generally used in pro audio equipment. Even the RCA unbalanced connection uses a ground sensing transmission method that achieves simple balanced transmission. And in cases such as that where each channel with the XLR is used selectively, the impact of noise flowing between the pre-amp and the chassis of the power amp is removed, minimising sound quality deterioration due to the connection.